Our Strategy
Our democracy can no longer afford for state legislative politics to take a backseat in America's political consciousness.
State legislatures are the building blocks of our democracy. Historically, Republicans have focused more on building power at the state legislative level than have Democrats — and they're using that power to subvert our democracy, put up unnecessary barriers to the ballot box, and gerrymander themselves into permanent power.
The good news is that this rise of Trumpism opens a door for engaging moderate voters in the coming cycle. Banning abortion, banning books, and trying to overturn the 2020 election are repellant to swing voters. But make no mistake, we're heading into an uncertain political environment that could favor the GOP. History has taught us that the president's party loses seats in midterm elections.
The stakes are sky-high, but we're clear-eyed about the challenges ahead.
We're not taking any of our majorities for granted in 2022, and we will work hard to defend our majorities. We will simultaneously mount aggressive challenges in multiple Republican-controlled chambers. This work is vital to protecting the Democratic path to the U.S. House, the U.S. Senate, and the presidency.
To this end, we're implementing a three-pronged strategy to protect our majorities this cycle, mount a competitive challenge to winnable GOP-held majorities, and build strategic power for future cycles.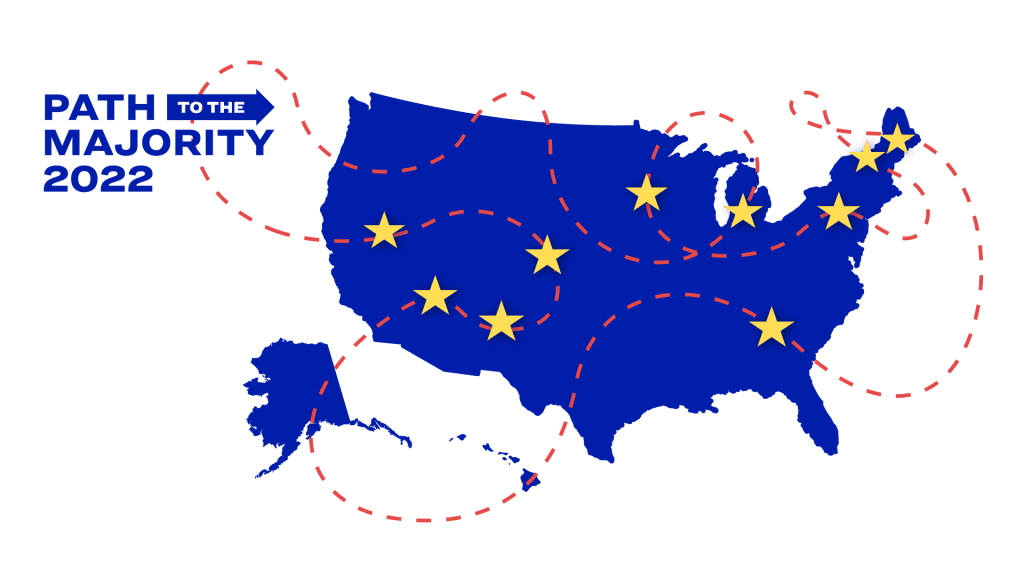 Defending Majorities
Democrats have made significant progress undermining Republican dominance in state legislative elections over the past decade. Our first priority this year will be to defend those gains. We're not taking any of our majorities for granted in a midterm election that historically has the party in power losing seats down-ballot. Winning state legislative majorities in challenging territory later in the decade starts with defending our progress today.
Targeting Vulnerable GOP Chambers
We won't let up on GOP majorities in chambers where they're vulnerable — and this cycle is no exception. Even in a political environment that could favor the GOP, these chambers present opportunities for Democrats to gain ground. These chambers are extremely competitive — so even if we fall short of an outright majority, we're laying the groundwork to close our margins in future cycles.
Reversing Republican Advantages
In 2020, we saw national Democrats win elections in unprecedented territory. It's time to start building towards that at the state legislative level. Redistricting realities, the political environment, and current legislative margins make these chambers challenging — but make no mistake, they're competitive. We're investing now to build towards longterm gains in these states.
Beyond our majorities
Breaking the GOP's edge, largely built through unrepresentative gerrymandering and restrictive voting laws, isn't easy or glamorous work. Majorities are not made overnight. That work can't stop and start in October of an election year — it will take hard work and significant investments cycle after cycle to build majorities over the next decade.
States with diversifying populations are places we're investing in now to build strategic levers of power to set ourselves up for success in future cycles. The Democratic Party's prospects for the next decade rely on us doing the hard work and focusing on how to build power both now and for the future.
Democrats haven't historically done a good job of focusing on the levers of power outside of DC — this is the first step to change that.
Protecting Democratic Governors' Veto Power
We've defended Democratic governors' veto powers in states like Wisconsin and North Carolina in recent cycles by fighting to prevent GOP supermajorities. Even if we aren't able to build a legislative majority, ensuring that Democratic governors keep their veto powers helps keep GOP majorities in check by stopping anti-voting bills, anti-abortion bills, and other extremist legislation from becoming law.
Investing in Lieutenant Governor races and state Supreme Court seats
Republicans have made it clear that they're going to spend record amounts on state Supreme Court races this year in response to courts blocking gerrymandered GOP maps.
As for lieutenant governor races, last year, the DLCC began investing in these important races where we believed it could impact chamber control. We'll continue that work in 2022 and beyond to ensure that the courts remain fair.
Winning Competitive Districts in Tough States
Running up our margins in red states has an impact on legislation. In 2018, Republicans in Virginia finally joined Democrats to pass Medicaid expansion because they were worried about losing their majority. We will duplicate this effort by not backing down, by applying political pressure to adhere to the will of voters, and by repeatedly exposing Republican extremism. Majorities are made one seat at a time, so we're investing everywhere there's a competitive district to build towards winning majorities later in the decade.
Building Diverse Coalitions
Winning in the long term requires coalition-building everywhere. When we recruit candidates who reflect the communities they represent, those communities show up at the ballot box benefiting Democrats up and down the ticket.