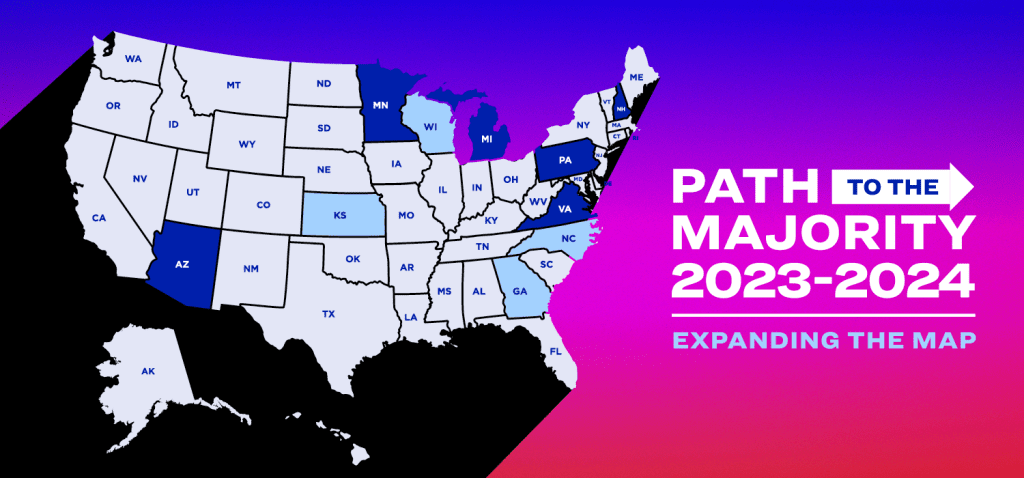 The DLCC's Path to the Majority is a bold strategy focused on achieving Democratic power in America's state legislatures. Last year, we led Democrats to the most successful state legislative midterm year for the president's party in nearly a century – now, we're focused on capitalizing on our success by defending our ground and working to expand Democratic power.
After flipping four chambers blue and holding all of our Democratic majorities in 2022, the DLCC is ready to harness that momentum and build on that success. We will aggressively defend our new majorities and mount competitive challenges in vulnerable GOP chambers that we have an opportunity to take back.
As the official party committee dedicated to electing Democrats to statehouses across the country, we've been in the trenches, we're setting the agenda, and we're ready to capitalize on every opportunity.
Protecting Our New Majorities
After a historic midterm cycle where the DLCC and state Democrats defied the odds, the DLCC is laser-focused on building durable majorities that can fend off MAGA Republican spending in the 2023-2024 cycle.
Winning the decade starts with protecting our progress in the:
⭐️Michigan House
⭐️Minnesota House
⭐️Pennsylvania House
⭐️Virginia Senate
The Democratic majorities in these chambers are using their power to defend abortion rights, protect access to the ballot box, and make progress on issues that are often stalled at the federal level.
The DLCC is ready to replicate our recipe for success and lay the groundwork to ensure another winning cycle in these states.
Expanding Our Power By Flipping Chambers
Heading into the 2024 cycle, we're taking on vulnerable GOP chambers where Republicans' toxic brand of MAGA extremism has made them increasingly unpopular with voters. Based on the new district maps and our current margins, our best chances to flip chambers are in the:
⭐️Arizona House & Senate
⭐️New Hampshire House & Senate
⭐️Pennsylvania Senate
⭐️Virginia House

State Democrats understand that Americans across the political spectrum want communities where health care is affordable, everyone has access to good-paying jobs, the local environment is protected, and working families can send their kids to world-class public schools without having to worry about making ends meet. Unfortunately, Republicans continue to waste time and resources passing hate-filled legislation, gutting worker protections, and passing tax cuts for the wealthiest Americans at the expense of working families.
We are laser-focused on loosening the GOP's grip on these battleground states and finally taking back these chambers.
Building Democratic Power
In 2024, the DLCC will be making strategic chamber investments in states that have diversifying populations so we can begin to build the power needed to set ourselves up for success in cycles to come. State Democrats are still the best line of defense against the MAGA agenda, and the DLCC's investment into these levers of power will help enact Democratic priorities across the country. These power play chambers are the:
⭐️Georgia House
⭐️Kansas House & Senate
⭐️North Carolina House & Senate
⭐️Wisconsin Assembly & Senate

Making these investments now allows us to get a jump start on loosening MAGA Republicans' grip on these legislatures while we continue to build back power, protect the path to the presidency, and ensure Democratic governors have the power to veto extreme Republican legislation.