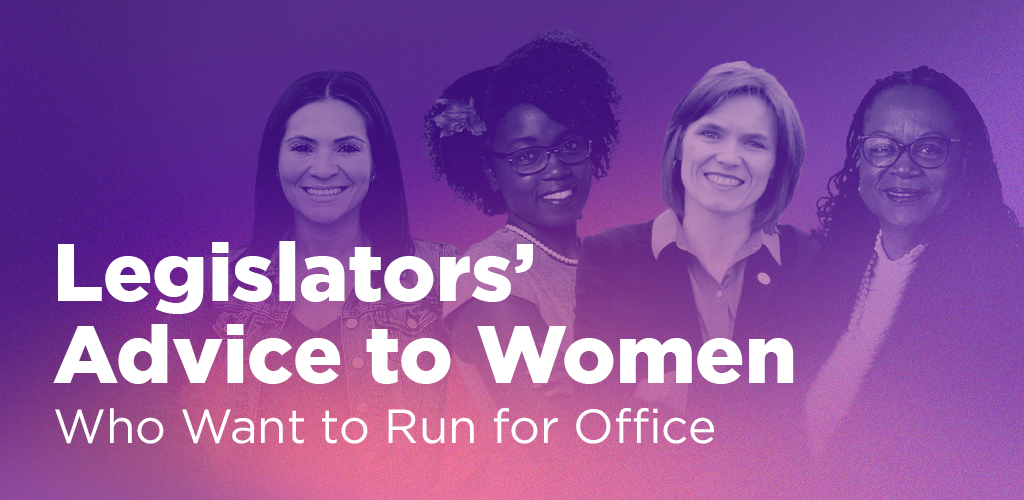 To kickstart Women's History Month, the DLCC brought together four legislators from the key battleground states of Michigan, Virginia, Georgia, and Nevada for a conversation on women in politics, the battle for reproductive freedom, and how state legislators are enacting the Democratic Party's platform in the face of federal gridlock.
In Part One of our five-part conversation, we asked these leaders what advice they have for young women who are interested in running for office. The following conversation has been edited for length and clarity.
Dr. Mamie Locke, State Senator for Virginia's 2nd Senate District, Virginia Senate Democratic Caucus Chair: In the words of Nike, just do it. Because I think that more than ever, we need young folks' voices, we need their energy, we need their tenacity. We need some more women who want to be these change makers, who see themselves as the policy maker, who are going to engage and be that voice that changes the community for the better, and understand that they can indeed do it.
Dr. Jasmine Clark, State Representative for Georgia's 108th House District: Number one, don't talk yourself out of it. The truth is there is no test that you have to take in order to become a legislator, the only thing you have to do, no matter what level of government you're running for, is campaign and get elected. So, don't think you're not good enough.
A lot of times, we try to tell ourselves, I'll do it when all of these ducks line up in a row. Don't wait for that. If you're feeling it right now, if you've seen something and your inclination is to say I think I want to run for office, then do it. Listen to that inner voice. Don't put it off, and don't let anyone talk you out of it.
Additionally, once you decide that you're going to do it, find women who have done it already and have that conversation with them so that you really truly feel empowered and you know that you're not going at it alone because we're here to support people who have decided that they want to take that leap.
Sandra Jauregui, State Assemblymember for Nevada's 41st Assembly District, Nevada Assembly Majority Leader: I say run, run, run, and then pay it forward. I think it's up to all of us to make sure we are uplifting the next generation of young, energetic leaders, building the bench behind us, and then instilling in them that they need to do the same. When you're running, bring someone with you as well.
Winnie Brinks, State Senator for Michigan's 29th Senate District, Michigan Senate Majority Leader: That's all great advice. When they first asked me to run in 2012, my very first thought was there must be someone better than me. And, I realized – as I had been doing some advocacy on education – that I had met these guys, and I was thinking through some of the folks I had meetings with and I thought if they can do it, I can do it. It really was an eye-opening experience for me to have that realization.
So I say to people, if you care about people and you're willing to work hard and you're curious because you will learn about a ton of different topics that are really important to people – then go for it. And all of that hard work that you put into it pays off and your constituents notice, and they know that you care and you will be successful. You don't win them all but you're not to be deterred by anything that people talk about, like lack of experience.
I wasn't planning on running at all when they approached me. But when I got out there it was just pure heart and grit. And people really noticed when we would show up for them and that we would not be deterred. We were on a mission. We won a write-in campaign in 2012 and went on to get reelected in a tough seat a couple of times in the state House and flip a Senate seat. And after round one, people were like, don't count her out, and it's only because of that hard work. Even in the minority, they knew we were getting things done for them and bringing their voice to the Capitol. That sense of service is strong. So if people have that in them, I say go for it.