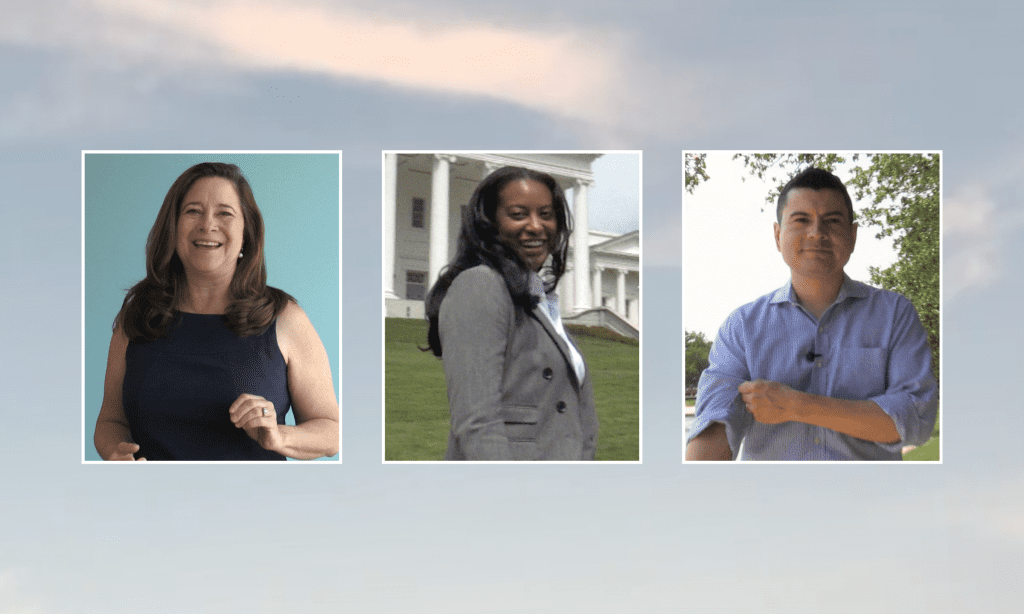 Today we're launching a new digital video series, Let's Flip Virginia, to emphasize the stakes in this November's General Assembly elections.
Through their personal stories, three House candidates, Shelly Simonds, Delegate Jennifer Carroll Foy and Phil Hernandez, show not just how close we are to flipping Virginia, but why it matters.
Grab a bowl of popcorn, sit back, and get ready to fall in love with state legislative elections all over again! (To all the haters saying, "These videos are less than three minutes all together. A bowl of popcorn?" we say, "Live your life.")
"If one more Democrat had voted, Republicans would not be in power in Virginia," explains Shelly Simonds, a candidate in HD-94 in Newport News. "The blue wave wasn't just about taking back one house. We're still here, and we're still fighting to take it all back, from statehouses to the White House."
Shelly knows better than anyone that every single vote counts. In 2017, she and Republican incumbent David Yancey earned the same number of votes. The race — and the Republican majority in the House of Delegates — was then decided by a random draw.
"When we talk about making Virginia blue," says Delegate Jennifer Carroll Foy, "these are the common-sense measures we're talking about. But the Republicans killed every single one with their two-seat majority. Their time is up."
After flipping her district in 2017, Delegate Carroll Foy went to work in Richmond, fighting for equal rights, better health care, and a fairer economy for all Virginians. Yet Republicans used their narrow majority to stop progress in its tracks, defeating the Equal Rights Amendment, an increase in the minimum wage, and protections for the LGBTQ community.
"Year after year, Republicans use their two-seat majority to stop efforts that would preserve our local economy and our way of life for future generations," says Phil Hernandez. "We need leaders who will meet this challenge."
Sea levels are rising faster in Virginia than anywhere else on the east coast. As a native of Hampton Roads, Phil has seen the effects first hand, which is why he's made climate change is a centerpiece of his campaign for HD-100.
Follow the DLCC on Twitter, Instagram, and Facebook, and check out all of our Spotlight Candidates at races.dlcc.org.