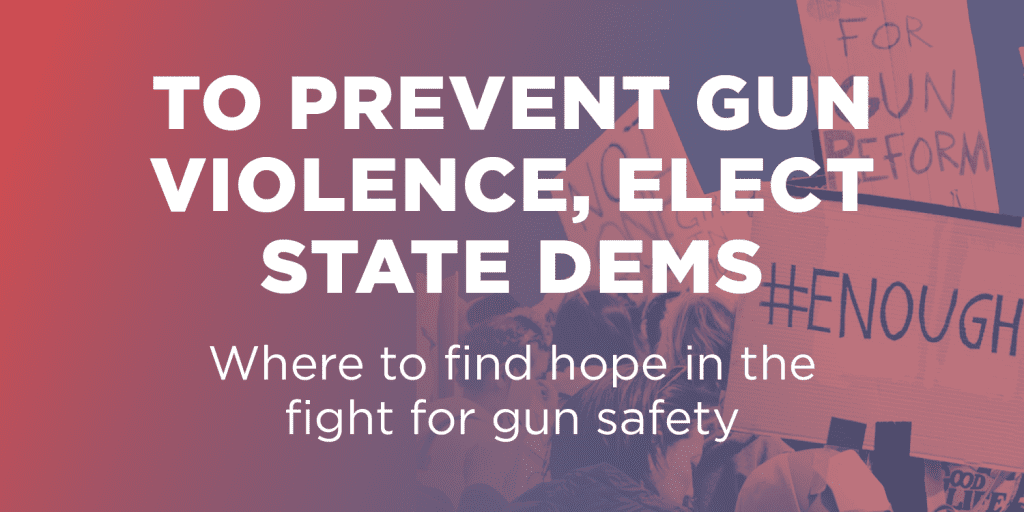 It's urgent we elect gun safety champions to state legislatures across the country. That's why we're proud to launch our slate of Gun Safety Champions — 12 Democratic state legislative candidates proving that gun violence is undeniably preventable through common-sense, widely-supported reforms.
This issue is personal for many lawmakers, just as it is for voters. The candidates in this slate include people touched by gun violence: a survivor of one of the largest mass shootings in U.S. history, a man who lost his son in a mass shooting, and another who credits gun safety legislation with saving the life of a family member. Their work to advance gun safety against all odds shows us what is possible when we turn rage and grief into action. They are creating a roadmap of what it will take to turn the tide on the epidemic of gun violence.
Here's what's at stake and how you can help.
Simple Reforms Show Results
State Democrats have shown that simple commonsense reforms can drastically reduce gun violence.
Extreme risk protection orders, one of the most common pieces of legislation, have helped prevent dozens of mass shootings and saved the lives of thousands from suicide, intimate partner violence, and other acts of gun violence. These laws give judges the ability to temporarily confiscate firearms from someone who poses a danger to themself or others. States like Connecticut, California, and Illinois, where Democrats have fought to implement extreme risk laws, have seen significant improvements in reducing gun violence compared to states that haven't.
Additionally, closing the "boyfriend loophole" — legislation to disarm domestic abusers and stalkers — has prevented thousands of gun deaths in states like California, Minnesota, and New York and is imperative in a country where an average of 70 women a month are killed with a firearm by their partners.
State Democrats have also championed universal background checks, ensuring that those who pose a clear danger to their community can't easily purchase a gun. This simple measure has reduced gun deaths by 15% compared to the states without it.
These reforms are intuitive and popular with the vast majority of Americans — including Republicans. Yet only state Democrats are the ones willing to take on this fight against an increasingly extremist GOP.

Republican Policies Are Deadly
With such extraordinary results, you may be wondering why more states haven't implemented similar measures. The answer is that Republicans are actually weakening gun laws in their state! This isn't surprising when you consider the gun lobby's financial grip on the GOP – nationally, they spent five times more lobbying than gun reform advocates in 2021.
Rather than working to prevent gun violence, state Republicans are actively making it easier for guns to flood our communities and put lives at risk. In GOP-controlled states like Missouri, Ohio, and Georgia, gun violence continues to rise as Republicans work to pass laws that loosen or ban permit requirements for carrying a hidden gun, restrict law enforcement's ability to implement federal gun safety laws, and make it more difficult for places such as hospitals, universities, and churches to implement gun-free zones.
These laws make all of us less safe. A recently-released report by the Center for American Progress revealed that as Arizona Republicans have watered down the state's gun safety laws, there has been a nearly 20% increase in murders and a staggering 109% in aggravated assaults with a gun over the past decade. There is a direct correlation between states with weaker gun laws and higher gun deaths.
Republicans can save lives, but are choosing not to. Instead, they push bills backed by the NRA, advancing a political line that costs the lives of tens of thousands each year.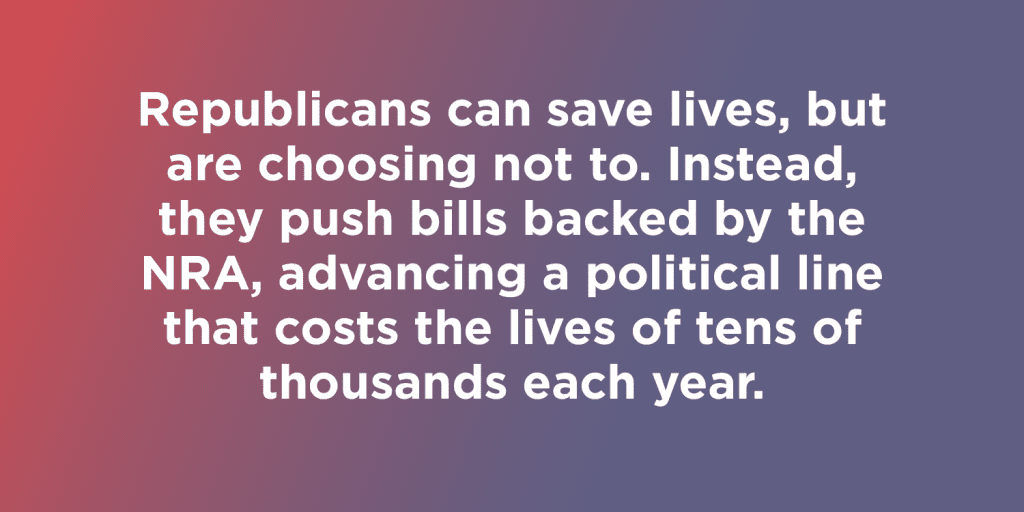 Help Gun Safety Champions Win
It's not hyperbole to say that lives are at stake this November. Implementing gun reform across the country depends on electing Democrats willing to fight the GOP's deadly agenda in state legislatures.
State Democrats have an uphill fight ahead: in addition to the gun lobby's influence on the party, Republicans have invested heavily in state legislatures for decades. Winning is far from guaranteed.
That's why the DLCC has put together a slate of Gun Safety Champions – 12 Democratic state legislators committed to passing commonsense gun reform and fighting back against the GOP's deadly extremism – and they need our help right now.
To win their races and continue their work to stop the spread of gun violence, these candidates urgently need our support to hire staff, run advertisements, and contact voters. They're fighting in competitive campaigns that could determine the safety of communities and students in their states for years to come.

Please split a donation between these 12 candidates today to give them the resources they need. There has never been a more critical time to stop the spread of gun violence.