On March 18, Republicans in Virginia will appear before the Supreme Court to argue in favor of their racially gerrymandered maps in Virginia House of Delegates v. Bethune-Hill. We're going to explain how things got this bad.
A one-seat majority
In 2017, Democrats won the popular vote by a landslide, 10-point margin, but Republicans kept their majority — by one seat. That single seat gave Virginia Republicans the power to shut down Democratic efforts to pass the Equal Rights Amendment, block fair housing protections for LGBTQ Virginians, and obstruct common-sense gun measures championed by Democrats.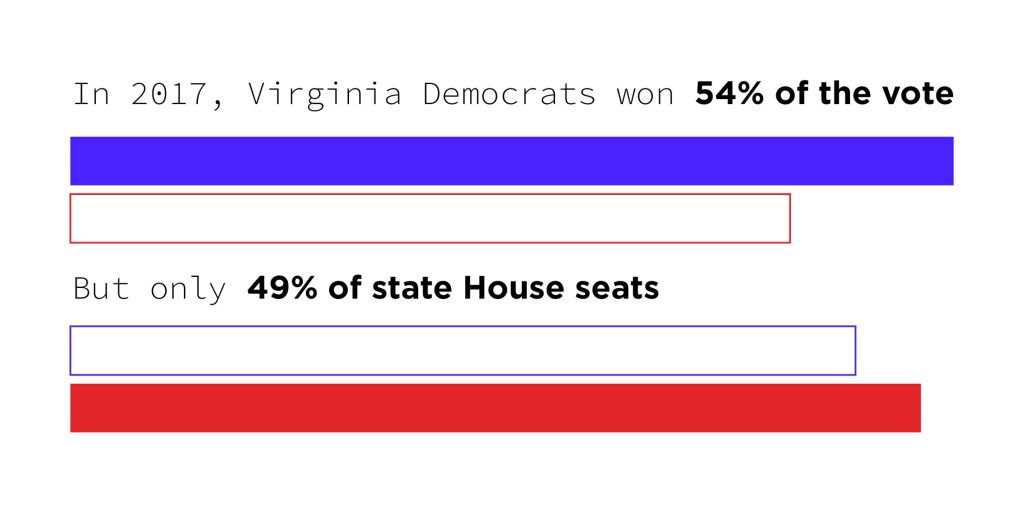 "One of the most gerrymandered states in the country"
The Princeton Gerrymandering Project ranked Virginia as one of the most gerrymandered states in the country this past decade — with district maps drawn specifically to maximize Republican power, while also minimizing the electoral clout of communities of color.
Most of these facts aren't even in dispute. In fact, in recent court filings, Republicans in Virginia actually admitted they purposely packed Democrats into a small number of districts, leaving Republican voters more evenly spread out and able to take a majority in a larger number of districts.
They did the same thing to African American voters throughout the state, dividing some communities and packing together others in a way that nearly eliminated the chances of seeing African Americans' preferred candidates elected outside of a tiny handful of districts.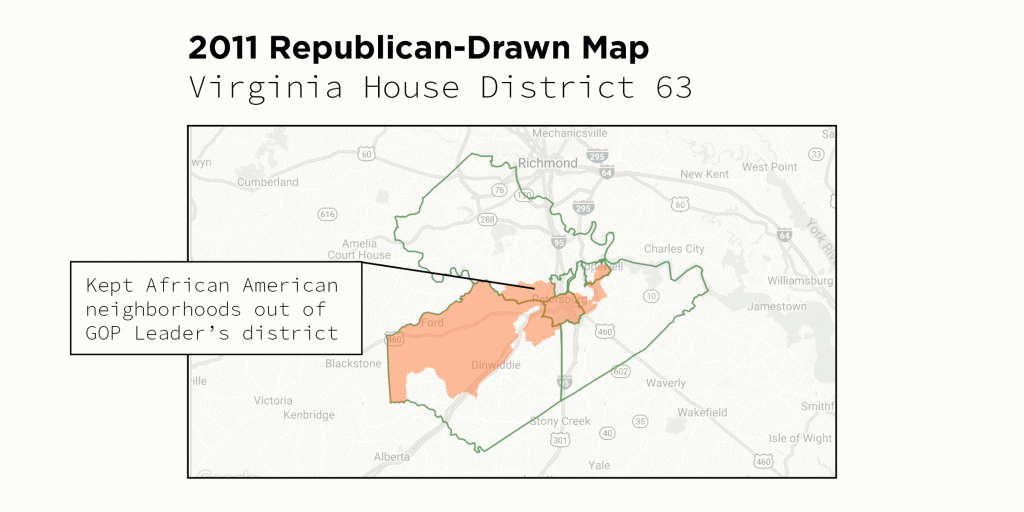 Where this case stands now:
Bethune-Hill was first seen by the Supreme Court in 2017, after twelve districts were challenged for packing black voters. Out of those twelve districts, the Court sent eleven back down to the lower court for review, to determine whether "race was the predominant factor motivating the legislature's decision to place a significant number of voters within or without a particular district."
It was obvious that Virginia Republicans had done exactly that. One expert testified that in several cases, district lines were drawn "precisely at the point where black neighborhoods transitioned to white neighborhoods." Republicans even went as far as dividing a military base into separate districts, just to separate black voters from white voters.
Last June, there was a ray of hope when the lower court finally declared that these eleven districts are, in fact, the products of racial gerrymandering and struck them down. They also drew new districts for this year's elections that are much more fair and would dramatically increase minority representation.
Now, Republicans are asking Neil Gorsuch and Brett Kavanaugh to step in and save their racist maps. And Monday morning, they might decide to do just that.
What you can do:
Tearing down these rigged maps is more important than ever. In 2019, we have crucial state elections for every seat in the Virginia House and Senate. And in 2021, every state across the country will be drawing new district maps — including Virginia — and in 70% of states, the legislators we elect right now will hold the pens.
Supreme Court cases like Bethune-Hill are a crucial step towards getting fair maps in place for these elections, and putting a stop to practices that dilute the voices of voters of color in 2021. But as we've seen in Virginia, it takes years to fight these battles in the court, and it will take years to undo the devastating effects of GOP policy passed in the 8 years these maps were in effect. That's why we're focused on winning state legislative seats in key chambers for redistricting across the country — so Republicans won't have the opportunity to do what they did in Virginia, and so many other states, ever again.