Who we are
The DLCC is the official party committee dedicated to electing Democrats to state legislatures in all 50 states. What does that look like? We recruit, train, and support local Democrats running for state legislative office. The DLCC provides candidates with the resources, field support, and state-of-the-art data technology they need to run smart, winning campaigns.
Top Democrats like President Obama and Stacey Abrams got their start in state legislatures – and we're supporting the next generation of local leaders at the DLCC!
Our strategy
Last year, we led Democrats to the most successful state legislative midterm year for the president's party in nearly a century. Pundits expected a "red wave" – and even though these races are overlooked and underfunded, the DLCC has been in the trenches building Democratic power at the state level year after year. We held the line in 2022, and now that work is paying off for the American people. Just last year, Democrats:
⭐️ FLIPPED four chambers from red to blue in Michigan, Minnesota, and Pennsylvania,
⭐️ DEFENDED our Democratic majorities in Maine, Colorado, New Mexico, and Washington,
⭐️ GAINED a supermajority in Vermont's state legislature, and
⭐️ PROTECTED the power of Democratic governors' vetoes in states like Wisconsin.
None of this would have been possible without grassroots Democrats getting involved.
Path to the Majority: Expanding the Map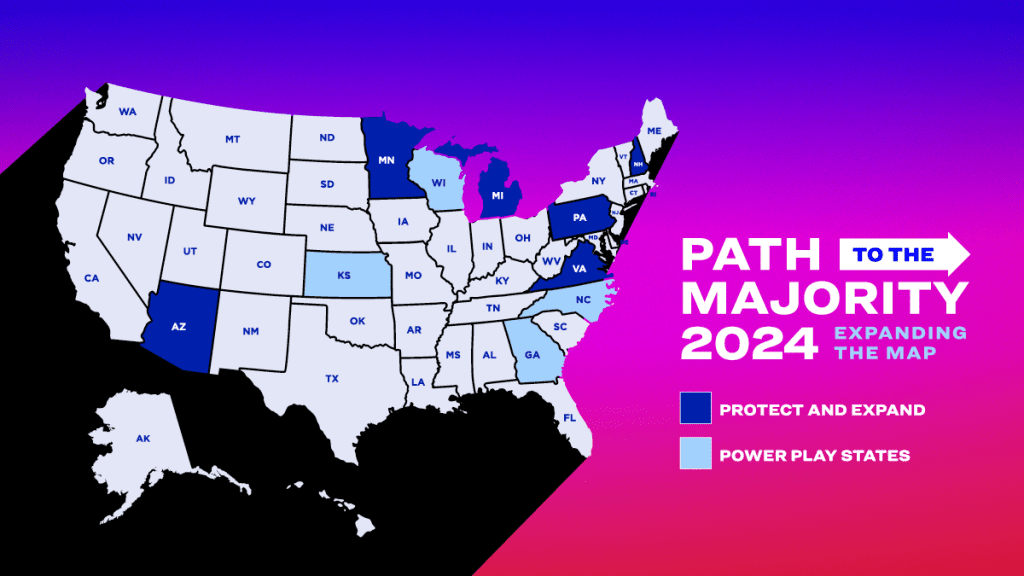 In 2023 and 2024, we're keeping the momentum going. We kicked off the year with a historic special election in Virginia, flipping a red seat held by the GOP since 1996 – and we're just getting started. Now, we must defend our majority in the Virginia Senate and take back control of the Virginia House of Delegates this fall.
We're defending our new majorities in Minnesota and Michigan, as well as challenging vulnerable GOP chambers in states like Arizona, Pennsylvania, and New Hampshire, where the GOP is dead set on banning abortion, attacking the LGBTQ+ community, and trampling on voting rights.
But you may still be wondering … why are down-ballot races so important? It's straightforward: State legislators have the greatest impact on our day-to-day lives, from the roads we drive on to the books our kids can read in school. In states with Democratic majorities, our lawmakers are using their power to defend abortion rights, protect access to the ballot box, expand Medicaid, and make progress on critical issues often stalled at the federal level.
Ready to join the fight?
The DLCC is powered by more than 200,000 supporters from all 50 states. Over 99% of our contributions come from grassroots donors (giving an average of $19.97) who fuel thousands of local Democrats. Get involved today!