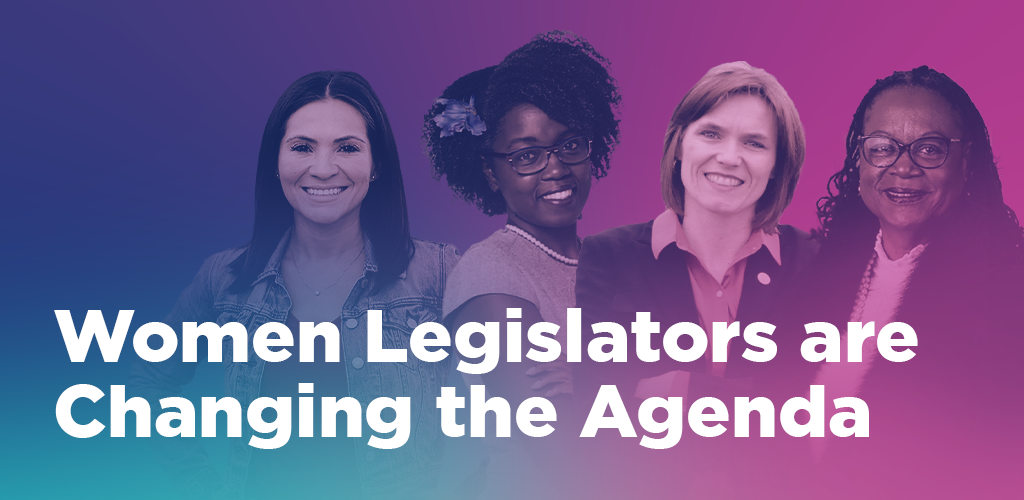 Nevada was the first state to have a majority of women serving in the legislature. As of last year, 11% of Nevada legislators were mothers of young children, and that number appears to be even higher now in 2023. We asked Nevada Assembly Leader Sandra Jauregui and three other women serving in the Michigan, Virginia, and Georgia state legislatures how the demographic make up of the chamber impacts their work.
The following conversation has been edited for length and clarity.
Sandra Jauregui, State Assemblymember for Nevada's 41st Assembly District, Nevada Assembly Majority Leader: I'm so proud of Nevada because we did break ground and make U.S. history in 2018 when we elected the first female majority state legislature, and we've continued to maintain that majority for the last two election cycles. And we've actually seen that come through in the policy agenda that we bring forward. For so many sessions, there were items that were ignored, like prenatal care, postnatal care, education funding, youth mental health, reproductive freedom, even things like SNAP. Those are issues that are now at the forefront of every conversation we have in our legislative session.
For so many years, Nevada was at the bottom of the list when it came to children and young families. Now for the first time in a long time we have a surplus of money and we get to show Nevadans where our priorities are. And because we have a female majority and so many of them are young mothers, things that are going to be funded are things like addressing the high rate of maternal mortality, what we can do for youth mental health, what we can do around not just education, but access to early childhood education and childcare. All of those things are happening now because of the make up of our state legislature.
Dr. Jasmine Clark, State Representative for Georgia's 108th House District: I love that! I was just having a conversation earlier with our school board superintendent and I very much came at the conversation from the perspective of a state legislator but also as a mother in your school system who wants to know how policies will affect my child. And I was sitting at a table with very few other mothers of students, and it really does change the conversation when people have to think about things other than the wealthy homeowner. What about the parents! So I absolutely believe that when we have women's voices in the room, it increases perspectives that have largely been unrepresented at the table for far too long.
Dr. Mamie Locke, State Senator for Virginia's 2nd Senate District, Virginia Senate Democratic Caucus Chair: I agree. One of the things that we were trying to get done this session that we couldn't was dealing with the inherent biases that are present with physicians when they're dealing with women of color, particularly when it comes to maternal and infant mortality care. The only thing the bill required was cultural sensitivity training while students are training to be physicians. And the Medical Society of Virginia went totally bananas like, "Why should we have to do that? You're telling doctors what to do!" But we're not telling you what to do.
This is a real issue on the part of women of color who are confronting this every day. And we're simply saying it's real. If you look at the numbers of maternal and infant mortality rates in this state, you will understand why women of color feel they can't talk to you. I'm going to bring this bill back next year, and I'm going to keep bringing it back until you understand that this is a real problem that you're going to have to confront.
Winnie Brinks, State Senator for Michigan's 29th Senate District, Michigan Senate Majority Leader: I don't know about all of you, but throughout my career I've been in rooms that have been dominated by mostly men. One of the key things that I think we all, as women, can bring to the table is knowing what it's like to be ignored in conversations. So it's not just important that I'm there and I'm bringing my experiences and my voice as a woman to the table – it's also important that I make a point to listen to those other people who have been ignored, often for different reasons, or who have not even been let in the room. I think it changes the whole conversation and makes a better environment.
When someone brings up a point, it's part of my job as Senate Majority Leader to make sure that it's not disregarded but rather something where we ask, can you share more about that? Can you tell me about your experience and why this matters, and how should we change this bill? So, having women there is an incredibly powerful way to really make sure that all the voices in the room are heard.
Nevada Leader Jauregui: And I think one of the important things is, as more women become elected leaders, there's this misconception that we only care about issues that impact women, but that's not true. There's so much that we've gotten done here in Nevada having a female majority that isn't women-centered. We've expanded access to funds for Nevada small businesses. We raised revenue in our state. We sent more money to education than ever before in Nevada history. And we expanded access to democracy. Those are big issues that impact every single Nevadan. Yes, we protected reproductive freedom and removed the Pink Tax. But we've done so much more.
—
This is Part Three of a five-part conversation among women state legislators, convened by the DLCC in honor of Women's History Month.
Read Part One on advice for women who want to run for office here.