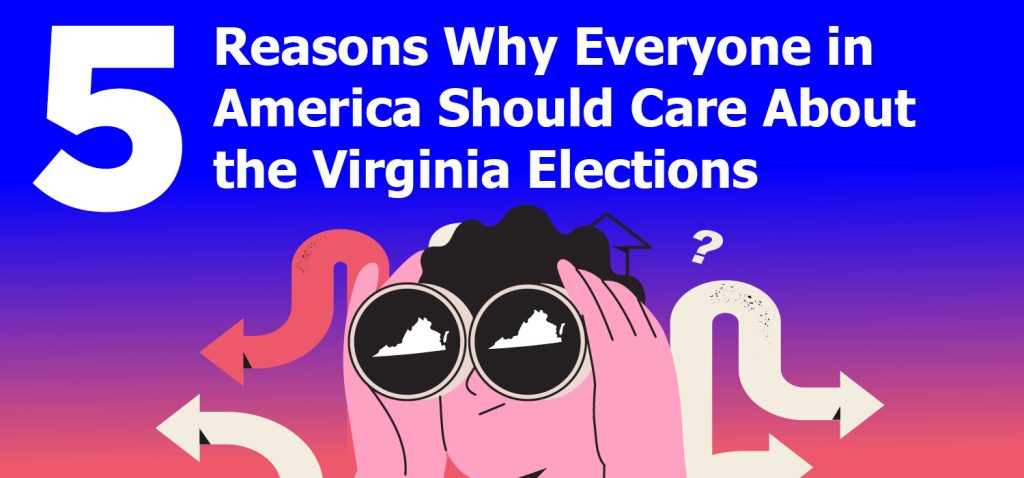 The most important election of the year is taking place this November in Virginia, where every member of the Republican-controlled House and Democratic-controlled Senate is up for reelection. The consequences of this monumental election will extend far beyond Virginia's borders. That's why the eyes of the nation should be focused on the commonwealth as we head into November.

Virginia is the only remaining state in the entire South where Republicans have been unable to pass an abortion ban since the Supreme Court overturned Roe v. Wade last summer, leading to an influx of thousands of patients from out of state. But if Republicans win a trifecta in November, that's guaranteed to change, with Governor Glenn Youngkin and Republican candidates chomping at the bit to restrict access to care. That would have catastrophic consequences, not just for Virginians but for millions of people in the region who would lose their closest comprehensive reproductive health provider.
A recent poll by the Wason Center shows that two-thirds of Virginians support keeping abortion legal in the commonwealth. In a January special election, Virginia voters elected Aaron Rouse, flipping a state Senate seat blue in a race where abortion rights were a top issue. That early 2023 victory strengthened the Democratic majority in the Virginia Senate, empowering them to block the GOP's attacks on health care.
Senate Democrats then moved quickly to enshrine the right to abortion in the state constitution – a priority that Republicans have continued to block. It's clear where each party stands when it comes to protecting health care, and abortion access is primed to be the most important issue heading into November.

Republican state legislators across the country have introduced nearly 500 anti-LGBTQ bills so far this year, most of them targeting trans children. According to a 2023 national study by the Trevor Project, nearly two-thirds of LGBTQ+ youth confirmed that simply hearing about bills that discriminate against their community severely worsened their mental health, with trans kids reporting the highest rates of suicidal ideation and attempts. If Republicans are able to gain a trifecta in yet another state, they'll pass their bullying laws with abandon, which could be disastrous for the mental health, not just of Virginians, but of kids across the country watching hateful agendas being signed into law.
In Virginia, no less than 12 bills attacking the civil rights of trans people were introduced by Republican legislators this year. Youngkin himself pushed an order requiring school staff to out kids to their parents if it seemed like a student wasn't conforming to their assigned gender, potentially exposing kids to dangerous situations at home. Fortunately, these efforts to harm transgender Virginians were blocked by a 3-seat Democratic majority in the state Senate.
It is a victory for Virginia's children that none of these bills were signed into law, and that they have champions in their corner like Delegate Danica Roem, the first openly trans state legislator in the nation. But it's still a huge burden on queer youth to know that there are other powerful adults legislating against their rights. If Republicans manage to win both chambers of the legislature, it will be difficult to stop a new wave of state-mandated discrimination.

The 2024 election is shaping up to be decided by razor-thin margins. Every swing state – including Virginia's 13 electoral votes – will be pivotal to electing Joe Biden, helping Congressional Democrats regain ground, and saving democracy. But if Republicans win a trifecta this November, they'll roll back the recent voting rights advancements that led to record early voter turnout in Virginia's 2020 elections.
Virginia was able to achieve record turnout in the middle of the pandemic thanks to Democrats, who quickly got to work removing barriers to voting after they won a trifecta in 2019. They enacted a 45-day early voting period, implemented same-day voter registration, allowed for a permanent absentee ballot list, made Election Day a state holiday, and repealed a discriminatory voter ID law. The next year, Democrats made Virginia the first state in the South to enact a Voting Rights Act, which provides oversight should local officials try to shut down polling places, make it harder for non-English speakers to vote, or pursue other discriminatory practices.
These advancements helped catapult Virginia from 49th to 12th in terms of ballot access in the states. Yet, upon taking control of the House of Delegates last year, Republicans quickly passed bills to limit voting, including a ban on ballot drop boxes and shortening the early voting period – both of which were blocked by the Democratic-controlled Senate. This clear attempt to disenfranchise voters was led by Governor Youngkin, who, for nearly a year after the election, refused to confirm that he would have certified Biden's 2020 victory.
This kind of underhanded voter suppression is an attempt to stack the deck in favor of Republicans. If they manage to take control of both chambers of the legislature in 2023, then the GOP will be free to make even more brazen ploys to block residents from voting in future elections, including 2024.

The climate crisis is coming at us fast. In the face of slow federal action, we've had to rely on Democratic-controlled state legislatures to pick up the slack. Every majority Democrats hold is one step towards making our country greener, and Virginia is no exception.
In 2019, Democrats took control of the Virginia legislature for the first time in decades and quickly set out to chart a more sustainable future. During their first session in power, Democrats passed the Clean Economy Act, paving the way for 100% renewable energy by expanding solar power, offshore wind generation, and energy storage – initiatives that are integral to addressing the climate change crisis.
Democrats also led Virginia in joining the Regional Greenhouse Gas Initiative, a pact between every northeastern state to reduce carbon emissions. Governor Youngkin is currently trying to pull out of the agreement, despite the fact that 88% of residents support Virginia joining with regional partners to advance green policies. If Republicans win a trifecta in November, they'll undoubtedly roll back progress and sell out the futures of not just Virginians but all Americans.

Virginia Governor Glenn Youngkin is spending big to bring the Virginia legislature under full Republican control in November so he can pass extremist policies, solidify his far-right bonafides, and position himself for a future presidential run. While claiming to be moderates, Youngkin and the Republicans in the House of Delegates have shown their extreme vision for Virginia's future by promising to ban abortion, attack trans children, and undermine the right to vote if given the chance.
Unfortunately for Governor Youngkin and his lackeys in the legislature, their extreme MAGA policies aren't popular with Virginians, and it's on all of us to sound the alarm so that voters know the stakes ahead of the election. The Republican vision for Virginia and the nation is one that denies the current climate crisis, treats the queer community as less than human, disenfranchises voters, and threatens the health, safety, and dignity of pregnant people by denying them access to reproductive health care. But if Democrats are able to flip the Virginia House blue and hold on to control of the state Senate, we'll be able to block Youngkin's agenda, save progress in the commonwealth, and show that the GOP can't get away with repackaging extremism in a fleece vest.
It's clear that the entire country has a stake in what happens in this November's Virginia elections. To help people get involved, the DLCC has identified the 17 most competitive races for the Virginia legislature – Democratic candidates running in key districts that will determine which party takes control of the two chambers. Click here to easily throw your support behind our must-win races.