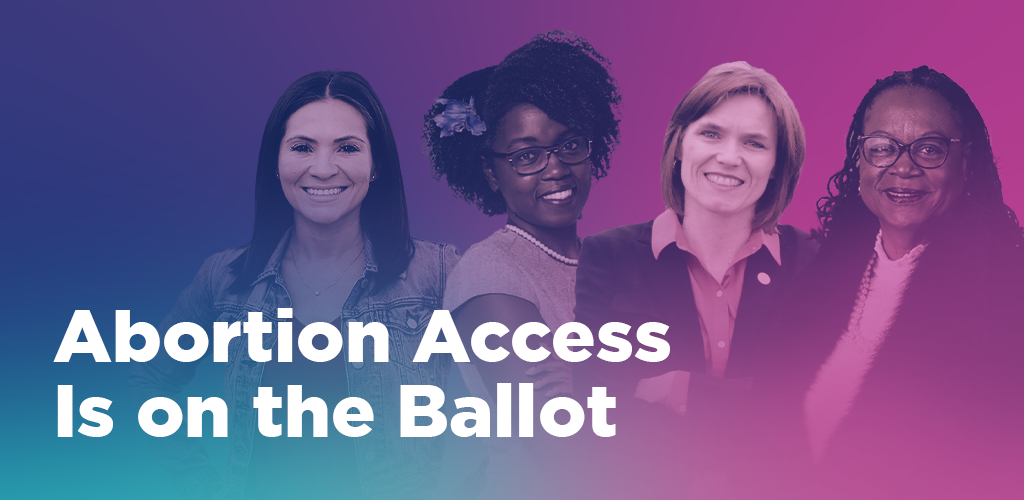 In June, the Supreme Court overturned Roe v. Wade, and state legislatures became the last line of defense for abortion rights. In blue states, we're seeing legislators work to protect and expand access to abortion care, while red states are rushing to ban it. In January, the Republican-controlled Virginia House passed an abortion ban that was blocked by Virginia Senate Democrats. We asked Virginia Senator Dr. Mamie Locke and three other women serving in the Nevada, Georgia, and Michigan legislatures how concerned they are about the future of abortion rights.
The following conversation has been edited for length and clarity.
Dr. Mamie Locke, State Senator for Virginia's 2nd Senate District, Virginia Senate Democratic Caucus Chair: Back in 2020, when we had a trifecta of Democrats in control of the House, the Senate, and the governor's office, we passed legislation that removed many of the barriers that were in place blocking women's reproductive rights. We removed the TRAP laws, we removed the ultrasound requirement laws. Now, under current law, abortions are allowed up to 26 weeks, so Virginia is one of those safe haven states.
We knew once Roe was overturned last June that the governor and his Republican colleagues in the House would come forward with a plethora of legislation to try to undo what we had done in 2020. We expected the 15-week ban. Luckily we have a Democratic Education and Health Committee chair in the Senate who put outside of her door what she called the garbage can and she said, "This is where all of those bills are going to go once they're filed." And that's exactly where they went!
Because we consider ourselves in the Senate to be the blue wall. And our advocates have been very, very strong: Planned Parenthood and Repro Rising and Birth in Color and all of these organizations that have been helping to rally the troops to come forward and testify against these bad pieces of legislation.
Dr. Jasmine Clark, State Representative for Georgia's 108th House District: I love that. I wish we had a blue wall here in Georgia. We are slowly but surely chipping away at the power that Republicans have, but right now, we have a Republican House, a Republican Senate, and a Republican governor. So it's very difficult to stop things like that. But, we still put up a fierce fight.
When I first got elected in 2019, House Bill 481 came to the floor. It was essentially a six week abortion ban, and when that bill passed, it BARELY, barely passed. And that was when Democrats had even fewer seats than we have right now. Now, there are some issues going on in terms of the constitutionality of the ban, so I think Republicans are going to rewrite it. But, Democrats already put up such a good fight that Republicans could barely get it passed when they had the numbers – I'm not so sure they have the numbers now!
But, we're not just playing defense, we're playing offense. We have HB1, which is a bill that says if the government is going to force people to give birth, then the government should also be forced to take care of that child from birth to 18 years old. We also have the Reproductive Freedom Act that addresses all the attacks on reproductive rights we have here in Georgia. So, we're coming at it from both sides. But, I have hope that one day we can be like you all in the commonwealth and have that fortified blue wall.
Winnie Brinks, State Senator for Michigan's 29th Senate District, Michigan Senate Majority Leader: Jasmine, I feel for you. I served ten years in the minority, much of that under a Republican trifecta. We are so fortunate to have elected a Democratic governor four years ago when I joined the Senate, and now that we have a Democratic trifecta, we have the opportunity to undo some of the damage that was done.
Up on our agenda is an opportunity to repeal an antiquated law that criminalizes abortion. But more than that, we have the ability to affirm in law the fundamental right to comprehensive reproductive health care and all that that means, everything from trying to become pregnant to not trying to become pregnant, all the way through healthy and supportive childbirth. So, we are very excited about that. I just want to offer you a word of encouragement to hang in there. We know how it feels, but we're here to support you if we can.
Georgia Representative Dr. Clark: I'll need all the encouragement I can get.
Sandra Jauregui, State Assemblymember for Nevada's 41st Assembly District, Nevada Assembly Majority Leader: I'm very lucky because, just like Senator Locke, I share in that blue wall. We're very lucky that in the 1990s, we put in constitutional protections for access to abortion care. Once we won a female majority in 2019, we saw the upcoming possible repeal of Roe v. Wade, so we went through our statutes and asked, what can we repeal here? What kind of protections can we put in? And in 2019, we passed the Trust Nevada Women Act, which removed language from our state statutes that criminalized abortion.
We've looked every session to see what we can do to add further protections. This year we're working on a bill to make sure that no local governments or state government agency can help in prosecuting any woman who comes in from another state seeking access to fundamental health care. I think we owe it to our neighboring states, we owe it to women in every other state who don't have the same rights that we do, to be a safe haven for them.
Virginia Senator Locke: And what is interesting here too is, some of our Republican colleagues have these blinders on about the coming 2023 elections and how Virginians truly feel about women's reproductive rights. They keep spouting these numbers about how Virginians don't really want to have safe and legal abortion.
So, Senator Aaron Rouse, who won a special election in January, took to the floor and said: Let me be clear, I'm the newest person here. I was just elected in January. I won a seat that was held by Republicans for 20 years. I took this seat because I was out there knocking on doors and hearing from women who said please protect our right to choice. That's what I heard. So you can go out there and continue to believe this falsehood that people don't care about this if you want to. But the reality is 65% of Virginians believe women are entitled to safe and legal abortion.
Nevada Leader Jauregui: I agree, Senator Locke. I think that's the reason we did so well in our state legislative races here in Nevada. When we were out knocking on doors, the Republican Party was out there promoting that abortion in Nevada is protected constitutionally. And it is, but there are other ways you can keep women from accessing reproductive health care! So, when we were out there, when we were speaking to constituents, they wanted to make sure that abortion was going to be protected, and we're like, well, this is how you guarantee protections: You need to elect a Democratic majority that won't implement the things that the Republican Party is already talking about doing, things like mandatory waiting periods and parental notifications.
I think that's why Democrats won two Assembly seats that had slight Republican advantages. There was no way we were expected to win those races, but reproductive freedom was always number one, the forefront of every discussion at the door. Unfortunately, we lost the governors' race but we're going to pass this bill and Nevada will get to see where our new governor stands when we send this bill to his desk.
Virginia Senator Locke: Remarkable.
—
This is Part Four of a five-part conversation among women state legislators, convened by the DLCC in honor of Women's History Month.
Read Part One on advice for women who want to run for office here.
Read Part Two on gun reform in the states here.
Read Part Three on how the demographic make up of a state legislature impacts the policies being passed here.