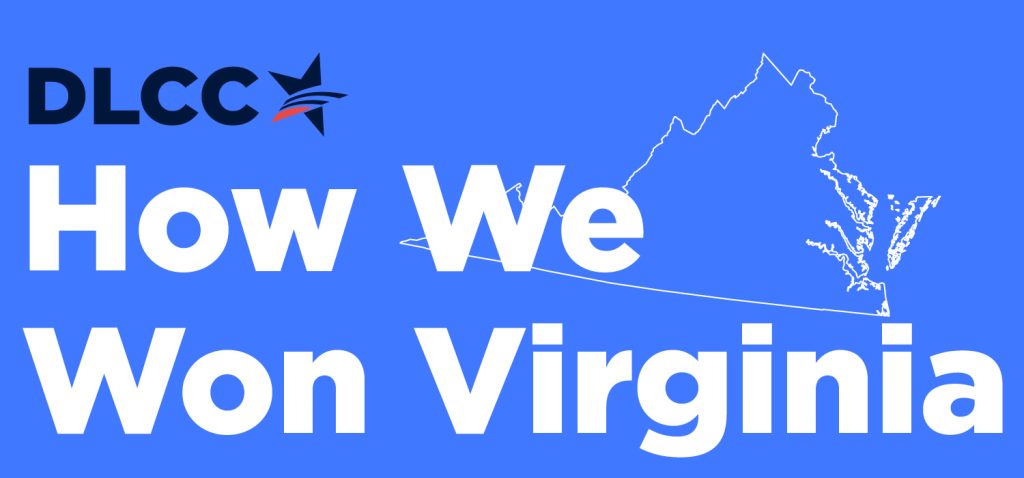 Democrats made history in Virginia this year after voters elected one of the most diverse state legislatures in the commonwealth's 400-year history. This victory was only possible thanks to the record-breaking investments made by the Democratic Legislative Campaign Committee – support that was instrumental to flipping the Virginia House blue and holding Democratic control of the Virginia Senate.
Over the last decade, the DLCC has completely transformed the landscape of state legislative races, bringing in record-breaking fundraising totals and securing a dozen new legislative majorities since 2016. These advancements have helped finally put Democrats on offense against Republicans, and we are just getting started.
Now, after achieving yet another groundbreaking victory in Virginia this week, it's clear that the DLCC has a blueprint for how to ensure Democrats continue to win big at the state legislative level, where abortion rights, education funding, gun reform, and more are on the line. Here's how we won:

The DLCC was the first national Democratic organization on the ground in Virginia this cycle, directing funds to the commonwealth that would total a record-breaking $2.2 million. The key to our strategy was investing early to help our in-state partners build up the infrastructure Democrats would need to succeed. Our data team helped pinpoint which races were going to be the most competitive and our early funds helped support these must-win campaigns with hiring staff, securing offices, and building out digital assets that would be critical to raising money and getting our message to the voters. The DLCC also provided candidates and caucuses with top-notch communications, finance, research, digital, and strategic planning.
We were up against a brutal Republican headwind. Governor Glenn Youngkin tapped into his network of billionaire donors to spend a gobsmacking $28 million this cycle trying to buy a Republican-controlled legislature that would help boost his presidential ambitions. But because we helped Democrats lay the foundation early, our candidates were in a better position to take advantage of late-cycle spending, and go toe-to-toe with the GOP in the days before the election.

Since the Supreme Court overturned Roe v. Wade, the DLCC has secured a wave of unprecedented Democratic victories in the states by sounding the alarm about the threat Republicans pose to reproductive freedom. We were confident that this would continue to be a winning message in Virginia, the last state in the South where Republicans haven't been able to pass an abortion ban.
Governor Youngkin and the Republican-controlled House of Delegates had tried to pass an abortion ban early in the year, but it was blocked thanks to a Democratic majority in the state Senate. We made sure that voters were well aware of what was at stake should they win a Republican trifecta.
The DLCC research team gathered the receipts early on, making it clear that no Republican candidates were on the record saying they would protect a woman's right to choose or would oppose new restrictions on abortion access. Despite multiple attempts by the GOP to rebrand their ban as a "limit," we succeeded in holding their feet to the fire and ensuring voters understood the truth. And in Virginia's first state legislative elections since the Dobbs decision last summer, voters turned out overwhelmingly to vote for Democratic candidates who would defend reproductive rights.

In 2022, the DLCC led Democrats to have the most successful midterm election year for a president's party in nearly a century – holding on to all of our majorities and flipping four chambers blue in Pennsylvania, Michigan, and Minnesota. We then kicked off 2023 by flipping a Virginia Senate seat blue in a race where abortion rights was one of the top issues. In Pennsylvania, we've had to defend our new one-seat House majority in five special elections – with five wins across the board. We've also won five special elections this year in New Hampshire, gaining seats and bringing Democrats just one seat away from breaking the GOP trifecta in the state.
All of these special election victories set the stage for the most important election of the year in Virginia, building confidence with grassroots donors, voters, and progressive partners that we have a fantastic blueprint for ensuring Democrats win big in the states – a blueprint worth investing in.

Republicans seem to be on a never-ending crusade to prove how unfit they are to govern – we just had to make sure that voters in Virginia saw the evidence for themselves. We were quick to harness national attention around the embarrassing Speaker fight to show how Republican incompetence was threatening the wellbeing of over 100,000 Virginian federal employees – warning that the same toxicity we were seeing in Congress had also seeped into Republican politics at the state level.
Our point was further hammered home when our research team unearthed evidence that 3 Republicans on the ballot in Virginia were in DC during the January 6 insurrection, and dozens more spread conspiracies about or questioned the results of the 2020 election. With the violence and chaos of the Trump years still looming in the minds of voters, Virginians heard our warning loud and clear.

While Republicans have decided to be the party that prioritizes billionaires, polluters, and MAGA extremists, Democrats are the ones fighting to strengthen the middle class and support working families.
60% of Virginians ranked abortion as one of their top concerns heading into the election – an issue that, as we've laid out, Democrats have continued to dominate. The other issue at the top of voters' minds was education – an arena where the Republican lurch towards extremism is repulsing more and more voters. From slashing funding for public schools to banning books to mandating bullying against LGBTQ+ students, the GOP's education priorities are way out of whack. Instead, Virginia Democrats ran on a strong platform of fully funding schools, teaching factually accurate science and history, and creating a welcoming environment for our most vulnerable children.
If Republicans want to keep running on a platform of dismantling people's fundamental freedoms and sabotaging our democracy, then they are going to continue to lose. The DLCC will continue to sound the alarm about the threat posed by GOP extremism and the value of electing Democrats in the states. We are in a fantastic position to harness the momentum coming out of this election and continue winning on our ambitious Path to the Majority target map, which includes defending our new majorities in Michigan, Pennsylvania, and Minnesota, and taking on Republicans in states like Arizona, Wisconsin, and Georgia.
We have a tried and tested plan for how to win in the states – we just need the support of grassroots donors and national Democrats to bring it to fruition. Help support our movement to elect Democrats in the states.
Click here to read the DLCC's full memo on how we won Virginia.