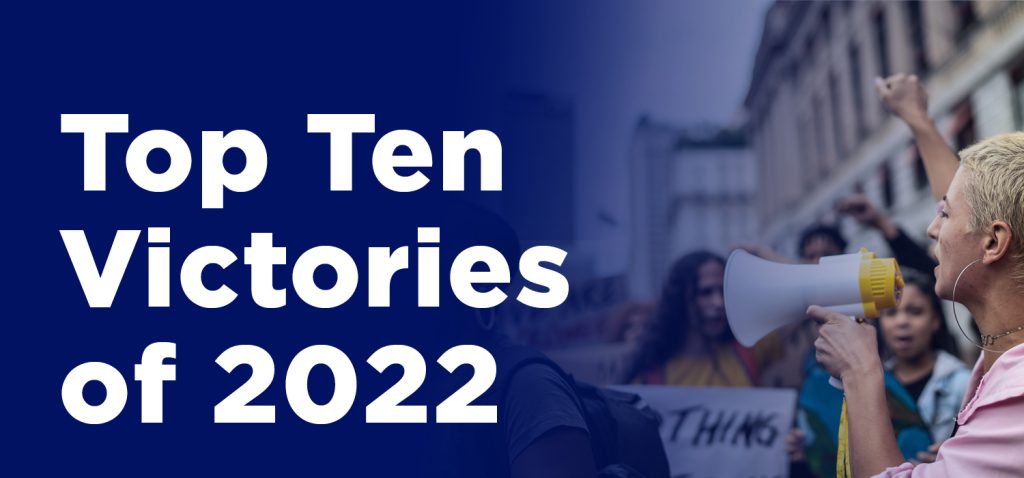 Every year, we highlight the top ten victories Democrats achieved in our nation's state legislatures. It was a year of ups and downs, filled with election wins, brave voices fighting back, and a lot of progress in blue states. This year we have so many wins to celebrate.

America is one of only seven nations that doesn't guarantee paid family and medical leave. This year, Maryland and Delaware joined nine other Democratic-led states in enacting laws to guarantee paid leave, with Democrats in Maryland overriding their Republican governor to make it a reality. These programs allow people to prioritize their health or the health of a loved one without fear of losing their income.

Democrats spent the year actively meeting the climate emergency by championing the economic and environmental well-being of today's and future generations. Democrats are incentivizing sustainable energy sources, investing state funds into private projects that reduce gas emissions, and expanding electric vehicle transportation capabilities.

While Republicans dragged us back in time with their anti-LGBTQ+ hate, state Democrats focused on issues like expanding health care access for the transgender community, strengthening fair housing protections, combating discrimination in public schools, and reinstating benefits to LGBTQ+ veterans. Every state where Democrats controlled the legislature in 2022 has full LGBTQ+ nondiscrimination protections – and in response to a potentially hostile Supreme Court, a growing number of states are protecting marriage equality with Democrats leading the charge.

Democrats gained supermajorities in the Nevada Assembly and the Vermont state legislature. In Nevada, the women-majority chamber will be able to protect abortion rights and will play a crucial role in keeping the incoming Republican governor's agenda in check. And in Vermont, legislators will have the ability to override the Republican governor's veto, giving them the power to champion affordable health care, fully fund public education, and lower energy costs.

Democrats blocked Republicans from gaining full supermajorities in North Carolina and Wisconsin, protecting both Democratic governors' veto powers. That means Democrats will be able to stop radical abortion bans, anti-LGBTQ+ efforts, barriers to the ballot box, attempts to insert politics into classrooms, and handouts to the top 1%. In Wisconsin, this victory comes despite rigged redistricting maps that gave Republicans every advantage.

State Democrats continued to lead the way on legislation that's proven to lower rates of gun deaths:

We've consistently seen Democratic state legislatures wield their power for working people, helping to raise the minimum wage, strengthen unions, and expand worker rights. At the beginning of 2022, minimum wage earners in many states – including New Mexico, Virginia, California, and New Jersey – received a raise because of legislation passed by Democrats. And while Republicans passed tax cuts for the super-rich and corporations, state Democrats fought for legislation to ensure workers and families benefited from the post-pandemic recovery. They lifted the gas tax in Maryland, introduced their own statewide child tax credit in Illinois, invested in workforce development programs in Oregon, and so much more.

One of the worst moments of the year was when the Supreme Court overturned Roe v. Wade and sent the issue of abortion rights back to the states. But Democratic legislators got right to work protecting health care access:
Colorado joined 15 other Democratic states in explicitly protecting the right to abortion.
California, Delaware, Connecticut, and New Jersey passed protections for abortion providers and patients from out-of-state who may be targeted by the GOP's vigilante bounty laws.
In Maryland, Democratic legislators overrode Republican Governor Larry Hogan's veto in order to expand access to abortion care.
Democrats' impact goes beyond legislation, too: Hundreds of Democratic lawmakers in red states vocally fought back against GOP attacks, with some even bravely sharing their own abortion stories.

This year, Democrats made history – it was the first time since at least 1934, and potentially ever, that the president's party hasn't lost control of a single state legislative chamber in a midterm year. Republicans spent $23 million and used every dirty trick in the book to flip the Colorado legislature red – but voters sent the message that the GOP's election lies and abortion bans had no place in their state. Maine, New Mexico, Washington, Nevada, and Oregon were also top flip targets for the GOP. They came up short in each one. This historic feat should humble the GOP in state legislatures – they thought they could attack abortion rights and fundamental freedoms and not face any backlash. The American people proved them wrong.

Not only did Democrats successfully defend all of our state legislative majorities – we also overcame steep historical odds and flipped four chambers from red to blue.
For the first time since the 1980s, Democrats won control of the Michigan House and Senate. Michiganders got to vote on fair maps for the first time in a decade, and they overwhelmingly rejected Republicans and the fringe policies they represent.
The Minnesota DFL succeeded in flipping the state Senate blue, delivering a Democratic trifecta in the state for the first time in years.
And in Pennsylvania, Democrats won control of the state House for the first time in over a decade, breaking the GOP's hold on the state legislature.
This election should have been a landslide for Republicans. Instead, Democrats turned the GOP's "red wave" into a pathetic puddle and gained critical ground for the decade ahead.